Workshop Friday 6th December 2019, Kooralbyn
What is special about the Scenic Rim? Why should international and interstate visitors choose this region? How do we keep tourism environmentally sustainable?
*** REGISTRATION NOW OPEN (click here) ***
Tourism will grow here in coming decades, but must be well-planned. We have great wines, accommodation and activities, but so do many other places. Not all have the mountains, forests, birdlife, wild kangaroos etc. so close to international airports. The role of wildlife needs to be acknowledged and respected, and could well see this area become internationally famous for easy access to a great variety of wildlife, both famous and little-known.
Visitors to Brisbane, the Gold Coast and the Byron Bay area can also make a slight detour to include this wonderful region in their itineraries.
Wildlife tourism doesn't displace other kinds of tourism such as wine-tasting, farm-stays or general sight-seeing, but it sure adds to it, and if it coaxes a tourist to stay another day or two the local economy will benefit and the tourist will leave will a more rounded understanding of the district and some treasured memories.
Kangaroos, koalas, platypus, kookaburras, cockatoos and colourful parrots and are amongst the most famous of our wildlife, no matter how commonplace they may seem to local residents. Echidnas, lyrebirds (world's best mimic, and only in Australia), bowerbirds (astonishing architects, and only in Australia and New Guinea), wedge-tailed eagles (Australia's largest eagle), Paradise rifle bird (the only bird of paradise outside of the tropics), carpet pythons (one of Australia's largest snakes), goannas (one of Australia's largest lizards), glow worms (only in Australia and New Zealand – although young fireflies are sometimes called glow worms in the northern hemisphere) …. this is truly a part of the continent well-set to attract even more international nature-lovers than it does already.
Add to this wonderful mountain scenery, many kilometres of great walking tracks through rainforest and other forests, two international airlines nearby, several well-established tour companies for walking, birdwatching, general wildlife-viewing and general sightseeing tours that include wildlife, and potential for more, two major population centres nearby (Brisbane and Gold Coast), many excellent restaurants, campgrounds and accommodation of all levels within the Scenic Rim itself, and many opportunities to taste local foods, and the potential for much of the local Aboriginal culture to be better known, as well as the neighbouring beaches, whale-watching and theme parks of the Gold Coast for day-trips …
Is it surprising that many international tourists ask us why the Scenic Rim is not better known overseas?
Click here for more information about the Scenic Rim
Click here for the workshop draft program (but please keep checking for updates – not all is finalised yet)
There will also be a free visit for delegates to Spicers Hidden Vale Thursday 5th December. Depending on delegate wishes, participants will take themselves there or be transported to and from Beaudesert or Kooralbyn. There may also be a post-workshop tour to Tamborine Mountain and/or Lamington NP on Saturday 7th December.
9.30am to 4.30pm Friday
6th December 2019
REGISTER NOW (please click here)
Click here for venue information and accommodation special
The Scenic Rim is an ideal destination for wildlife tourism (see below) but apart from a couple of well-known operations does not get anywhere near the publicity either nationally or internationally as some other destinations enjoy. The mountains, the birds and other wildlife are a large part of what already drives many tourists to our area, but many others remain unaware of this very special place. Many tourists who do discover it ask why they've heard so little about our biodiversity and wonderful forests and other habitats.
We want to tell the world about it but in a way that attracts the "right" kinds of tourists, those who desire a connection with nature, keen to learn about and to quietly view our wildlife with minimal disturbance. We don't want a sudden expansion of mass tourism destroying the atmosphere and the very things that make our region such a magic place. This takes planning and communication between all stakeholders.
This is a workshop for
Tour operators and eco-accommodation providers in or near the Scenic Rim
Other accommodation, restaurants etc. (remember when people come to see our wildlife they need to eat, buy fuel, and maybe stay overnight)
Travel agents and tourism associations that may include Scenic Rim in their information or offerings
Local and state government
'National Park staff
NGOs (natural history, conservation, tourism)
Students (tourism, environmental studies etc.)
Citizen scientists (including school groups) interested in involvement in monitoring)
Anyone else with an interest in environmentally-sustainable tourism in the region
The more delegates who attend from different backgrounds (big and small tourism businesses, travel agents, local government, conservation managers …) the more perspectives, concerns, insights and ideas we can discuss – all critical for planning for the future we'd like to see for both people and wildlife.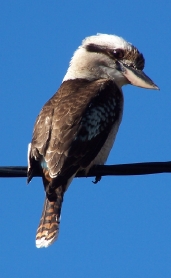 There are many wonderful areas in Australia to see wildlife, and focusing on this area for this workshop in no way denigrates others. However, the Scenic Rim tends to be under-rated in international promotions for wildlife viewing but has a lot in its favour. This workshop may also spin off ideas for other regions to conduct similar workshops.
Running a tour business or thinking of starting one? Let us know if you'd like to give a 4-minute speed presentation on your operation or your ideas
Let us know also if you would like to join a free tour to Spicers Hidden Vale on Thursday 5th December, or would be interested in tours to other parts of the Scenic Rim Saturday 7th December
Full registration, non-member (including lunch and refreshments) $95.00
Member. $85
Earlybird (by 16 September)) nonmember $80
Member $70
Keynote speaker: Dr Andrew Tribe (see below) of University of Queensland and Spicers Hidden Vale
Click here for information about Andrew
Why the Scenic Rim?
The Scenic Rim has numerous features well-suited to tourism in general:
It is less than a 90-minute drive from two international airports (Brisbane and Gold Coast)
It is close to other major tourism destinations (just inland from the Gold Coast, and a 90-minute drive north from Byron Bay), making it convenient for a multi-day tour or drive encompassing all of these, or day-trips from one to the other.
The weather is generally good throughout the year, the winters and summers tending to be milder than many other regions (and the forested mountains provide relief from the summer heat of low-lying regions)
It not only harbours the largest rainforest outside of the tropics anywhere in the world but one of the world's best systems of safe rainforest walking tracks (no large predators or guerrilla fighters, and you can easily walk for a couple of weeks without doing the same walk twice), as well as many other scenic walks through open forests
There is already plenty of infrastructure, including two of Australia's earliest eco-lodges (established before the word "ecotourism" was coined), many other styles of accommodation and camping options to suit couples, families, groups and singles, two canopy walks, glow worms that can be visited in daylight hours, etc.
There are already plenty of activities on offer: long-running events such as bird weeks and photography weeks, established tours to conduct overnight hikes, birdwatching and other wildlife treks, horse-riding, canoeing, hot-air ballooning etc.
There are many extras that tourists can enjoy in-between wildlife-watching: wine-tasting, fine dining, arts & crafts, great scenery …
The Scenic Rim is also very rich in wildlife, including those tourists often want to see plus many they've never heard of.
Most of the famous Aussie icons exist here: kangaroos, koalas, platypus, echidna, dingo, kookaburra, wedge-tailed eagle, lyrebird, bowerbirds, cockatoos, parrots, goannas, bearded dragons, carpet pythons, green tree-frogs, and colonies of glow worms
There are many less well-known but beautiful, bizarre and fascinating species. It harbours for instance the Richmond birdwing (Australia's second-largest butterfly), the only bird of paradise outside of the tropics, a large blue freshwater crayfish, leaf-tailed geckos, thousands of large fruitbats swirling into the sky at dusk, many species of fauna and flora found nowhere else, and critically-endangered species such as bristle birds and fig-parrots (visitors are unlikely to see the critically-endangered ones, but can view their habitats and learn about their plight).
It forms part of the third-highest biodiversity region in Australia, partly due to the Macleay-MacPherson overlap, where subtropical and temperate conditions exist side-by-side and many northern species reach their southern limits and southern species reach their northern limits. The rich soils and complex landscapes from three major ancient volcanoes and the high rainfall from winds blowing in from the Pacific Ocean also allow the diversity of habitat and wildlife species
Being close to the Gold Coast, it is also a short drive to add whale-watching, diving with turtles or seeking shorebirds to the visitor experience.
Geographically, the Scenic Rim, formed by three major volcanoes between 25 and 22 million years ago, runs from near Toowoomba (west of Brisbane) down to the NSW border and eastwards through Mt Barney and the Border Ranges of northern NSW and Lamington National Park on the Queensland side, and on through Springbrook almost to the coast. The political definition lies within this, as Scenic Rim Regional Council. We are here using the geographic description.
Topics will include:
History of the Scenic Rim from 30 million years ago to the present, and why it is so rich in species
Overview of wildlife species and their habitats
Potential for international fame as a wildlife tourism destination
Potential problems: avoiding over tourism and negative impacts on wildlife and habitats
Delivering good visitor education, before, during and after their visit
Conservation projects within the Scenic Rim
Variety of visitor experiences
Potential for citizen science within tourism
Marketing to attract nature-lovers from across the world
Keynote speaker: Dr Andrew Tribe (see below) of University of Queensland and Spicers Hidden Vale
Also field trips Thursday 5th and Saturday 7th December ( TBA but one option on Thursday will be a visit to Spicers Hidden Vale to learn more about the breeding and rehabilitation of local endangered species, the Hidden Vale Koala Project and the Scenic Trail Walk
Habitats in the Scenic Rim include mountainous terrain with a variety of rainforest, open eucalyptus forest and heaths, and valleys with rivers and creeks, swamps and sheoak-dominated riparian woodland. It includes the largest area of rainforest outside the tropics anywhere in the world, and one of the best and safest systems of walking tracks in rainforest anywhere in the world, as well as two rainforest canopy walks and many scenic waterfalls. Glow worms (found only in Australia and New Zealand)
The Scenic Rim is an easy drive from two international airports (Brisbane and Gold Coast), and has a range of accommodation types and tours. In between birdwatching and other wildlife-viewing, visitors can enjoy the restaurants, markets, art galleries and wineries, and can indulge in activities such as hiking (including multi-day), rock-climbing, hang-gliding, hot air ballooning, horse-riding, helicopter flights, massages in the mountains, swimming, kayaking or just relaxing in the forest or on a verandah admiring the view. They can also visit conservation projects such as the breeding and re-introduction of endangered species to Hidden Vale in the northwest or join a full week of birding or nature photography at ecolodges adjoining Lamington National Park.
Full registration, non-member (including lunch and refreshments) $95.00
Member. $85
Earlybird (by 16 August)) nonmember $80
Member $70
Let us know also if you would like to
be on a no-obligation list for updates about the workshop
present a paper (12 minutes) on any of the above topics or
be part of a speed presentation (4 minutes) of a tour operation already operating or planned within the region.
Keynote speaker: Dr Andrew Tribe
Andrew Tribe
Dr Andrew Tribe has worked with wildlife for the past 35 years, particularly in the areas of management, welfare and rehabilitation. For 24 years he was Senior Lecturer in Wildlife at the University of Queensland and is internationally recognised for his research and teaching in wildlife welfare, behaviour and management.
He has had extensive experience working with captive wildlife and is recognised as an authority on zoos. Dr Tribe was the Senior Veterinarian at Melbourne Zoo from 1985 to 1991, and has recently undertaken research looking at their opportunities, and challenges for the future.
Since 1994, Andrew has also led wildlife tours to Africa. These tours are designed to both observe African wildlife in its natural setting, and to give the tour group an insight into their behaviour, management, and conservation.
From 2016, Andrew has been Wildlife Manager for the Hidden Vale Wildlife Centre near Grandchester in south east Queensland. This facility is being run in conjunction with the University of Queensland to support conservation initiatives through teaching and research.
Ramada Resort – conference venue and accommodation
The workshop venue Ramada Resort Kooralbyn has rooms available for the special rate per room (one or two persons) per night of $134 for a room with twin queen beds or $151 for a room with a king bed plus twin sofa bed in the lounge room,.